Weekend Mass Schedule
Saturday at 5:00 pm
Sunday at 8:30 am

 

(See our current Bulletin for the weekday Mass schedule)
 Reconciliation Schedule
Saturday from 4:00 - 4:40 pm
Sunday from 7:45 - 8:10 am

Wednesday from 5:45 - 6:10 pm

(or by appointment - please call rectory)
---
  May the peace and love of our Lord be with you!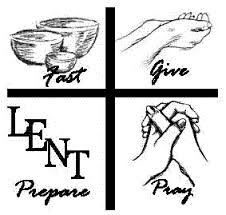 THE SEASON OF LENT
has begun and we invite you to  take the time to prepare
spiritually for the sacrifice of our Lord, Jesus Christ, on the Cross.
~ ~ Below are several ways and opportunities to do so ~ ~
Make a good Confession so that your soul, heart and mind will be cleansed and ready for the sacrificial offering of our Lord.  We will have confessions before Stations of the Cross on Wednesday evenings (from 5:45 - 6:10 p.m.).  We will have our Lenten Penance Service on Sunday, April 2, at 5:00 p.m.  We will also have confessions after Stations of the Cross on Wednesday of Holy Week (April 12) from 7:00 - 9:00 p.m. and on Good Friday (April 14) from 11:00 a.m. - noon
Make an effort to attend Mass during the week (please see our weekday Mass schedule in our weekly bulletin)
Maintain your Holy Obligation to attend Mass every weekend (Saturday Vigil at 5:00 p.m. and Sunday at 8:30 a.m.)
Join us in meditating on the suffering and death of our Lord at Stations of the Cross every Wednesday during Lent at 6:30 p.m.
Spend more time in prayer in the Real Presence of our Lord by joining us for Adoration of the Blessed Sacrament every Thursday from 3:00 p.m. - 9:00 p.m.
Give up one or more things in your daily lives (such as sodas, sweets, television or electronic devices, etc), to help you experience little sacrifices of your own to remind you of the big sacrifice that Jesus made for us by dying on the Cross
Visit the sick and home-bound more often and do more acts of charity for others
Fast and Abstain - - - Ash Wednesday and Good Friday are obligatory days of fasting and abstinence and Fridays are obligatory days of abstinence.  The norms on fasting are obligatory from age 18 until age 59.  When fasting, a person is permitted to eat one full meal.  Two smaller meals may also be taken, but not to equal a full meal.  The norms concerning abstinence from meat are binding from age 14 and onwards.  If possible, the fast on Good Friday is continued until the Easter Vigil (on Holy Saturday night) as the "paschal fast" to honor the suffering and death of the Lord Jesus and to prepare ourselves to share more fully, and to celebrate more readily, His Resurrection.
We also invite you to join us for Holy Week and Easter!
Holy Thursday (April 13) Mass at 7:00 p.m.
Good Friday (April 14) Service at 7:00 p.m.
Holy Saturday (April 15) Easter Vigil Mass at 8:15 p.m.
Easter Sunday (April 16) Masses at 8:30 a.m. and 10:30 a.m.
May God bless you and your families this Lenten Season!
---
Bulletins
---
Ethics & Intergrity in Ministry (EIM) 
EIM Workshops
We are all Called to Protect.
On Jan. 1, 2002, the Catholic Diocese of Austin instated policies on Ethics and Integrity in Ministry (EIM) for all employees and volunteers who minister to youth or vulnerable adults in the diocese. These policies were revised in August 2008.  All clergy and paid staff, and all volunteers working with youth and vulnerable adults, at any parish or diocesan location, are required to complete an Application for Ministry AND are required to attend an EIM workshop every three years.
If you are a volunteer or employee at any diocesan parish, school or organization, you must be certified in the Ethics & Integrity in Ministry Program.  To become certified, you need to attend a "Basic EIM Workshop".  You will then attend a "Refresher EIM Workshop" every three years after that to maintain your certification.
For access to all EIM information, please visit the Diocese of Austin website, www.austindiocese.org.  Go to the "Offices and Ministries" page, click on "Ethics & Integrity in Ministry Offices" and follow all of the instructions as necessary for your circumstances.
If you have any trouble, please contact the Holy Trinity parish office. 

Are you aware of sexual or physical abuse
or neglect of a child or vulnerable adult?
How to report abuse:
The Diocese of Austin is committed to preventing harm from happening to any of our children or vulnerable adults.  If you are aware of sexual or physical abuse and /or neglect of a child or vulnerable adult, state law requires you to report that information to local law enforcement or the Texas Department of Family and Protective Services at (800)252-5400 or www.dfps.state.tx.us.
Additionally, if the suspected abuse is by clergy or an employee or volunteer of any diocesan parish, school or agency, a Confidential Notice of Concern should be submitted to the diocesan Ethics and Integrity in Ministry Office at (512) 949-2400.  The Confidential Notice of Concern can be found at www.austindiocese.org (click on the link HOW TO REPORT ABUSE).  Reports may be made anonymously.
Mission Statement

Christ's Mission Is Our Mission.
As members of the Church,
to become witnesses of
God's loving presence
in the world through our
love of God and neighbor;
As members of society,
to promote the well being
of all God's creatures;
As individuals,
to do the will of God, our Father;
To be a prayerful,
reconciling,
forgiving,
sharing community
of God's gifted ones.
All of us together as the
Body of Christ
to do all for the
greater glory of God!


6225 HWY 290 East
Austin, Texas 78723
512-949-2400
---